Bragging rights to dogs who complete the Canine Good Citizen Test.  
Canine Good Citizen Class
Prerequisite: completion of Pavlov's obedience 1, 2, or behavior program.  Minimum age of 1 year.  
Do you picture yourself at coffee shops or breweries with your dog relaxing at your feet? Would an AKC blue ribbon compliment your dog's social media selfie?  If so, consider the Canine Good Citizen class!  Coloradans are blessed with many opportunities to bring our canine family member in public spaces. As responsible dog owners, it is our job to earn this privilege by teaching our dogs how to behave in a human world. Excellent class for future therapy dogs, or service dogs.
What is a Canine Good Citizen?
Canine Good Citizen is the title given to any dog that passes the 10-skill AKC Canine Good Citizen test. AKC stands for American Kennel Club.  The test is designed to evaluate you and your dog's abilities to navigate public settings.
Class will prepare your dog for this 10 Point Test.
1. Accept a friendly stranger.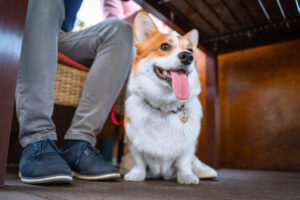 2. Sit politely for petting.
3. Appearance & Grooming.
4. Walk on loose lead.
5. Navigate a crowd.
6. Sit & Down; stay in Place.
7. Come when called.
8. Reaction to another dog.
9. Reaction to distraction.
10. Supervised separation.
Roleplay mock vet exams and grooming procedures.  Learn how and when to advocate for your dog's personal space, and adopt the code of ethics for responsible dog ownership.
Commonly Asked Questions
Do all dogs pass the CGC test?  Do all dogs have the genetic temperament to pass?
No.  Every dog is genetically encoded with a unique disposition.  Think of genetic disposition like your dog's hardware.  Your dog's hardware will determine what software may be downloaded.  Some dogs have the genetic disposition to integrate well into bustling public spaces whilst maintaining a Zen-like headspace.  Others do not.  Some dogs were bred to be tolerant of strangers.  Some were bred to be suspect.  Either way, your dog will likely benefit from the skills practiced in this class.
What if my dog fails the first test? 
Your dog may retake the class and test ONCE.  This is at no additional charge.
What are the prerequisites? 
Your dog must pass Pavlov's obedience 1 or 2 program prior to admittance.  All private lessons must be complete, and your dog trainer will give permission to enroll.
What is the cost? 
$400 to take the class and the test.  $50 for just one test.
WHEN:  Sundays from 10:45am – 11:45am for six weeks.
WHERE: 1295 South Jason Street, Denver 80223
How do I enroll, or ask more questions? 
Email megan@pavlovdogtraining.com.