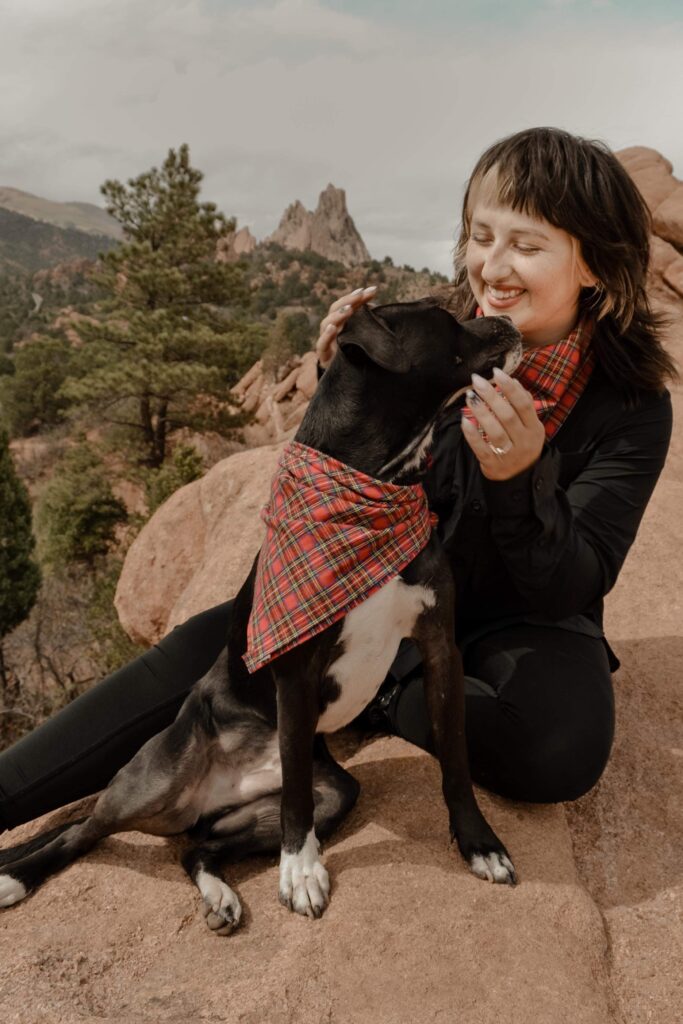 Meet Zoe!   Zoe is a rare Colorado Native, and is from the quaint mountain town of Manitou Springs.
Zoe started her dog training career at PetCo in Colorado Springs where she taught puppy socialization classes and assisted customers on how to select and fit walking tools.  During the weekends and evenings she instructed small group classes and private lessons, which was challenging considering the chronic high level of distraction inherent in a retail store.  Zoe was also a foster parent for Soul Dog Rescue, which blessed her with the opportunity to raise and train young puppies and adult dogs looking for a new home.  Rescue dogs relied on her to drive them to vet visits and necessary appointments.
Feeling a need to help dogs on a professional level, Zoe enrolled in the sixteen week program at Starmark Dog Training Academy.  Starmark, located in Austin, Texas, is a full-immersion program where dog trainers live on campus dorms for a solid four months.  Starmark beefed up her understanding of dog training through rigorous academic studies, hands-on training, and tests.  Zoe mentally downloaded concepts including: the science of how dogs learn, behavior principles, and how to interpret subtle nonverbal communication.  Additional classes included obedience, manners, agility, Police K-9 and protection classes, scent discrimination, and assistance dogs for the handicapped.  Most important to her role at Pavlov, was the Canine Training and Behavior Specialist Program.
Zoe also mentored under Pavlov Dog Trainer, Shannon Kole.  She presently resides in Parker with her three dogs and a collection of exotic and rare plants.