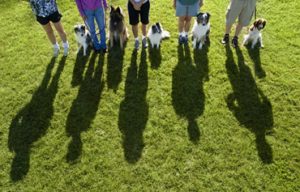 Reactives Anonymous
is a group class for you and your dog to practice obedience and manners in the context of a real life environment, with multiple dogs, people, and real life outside distractions.  Class is designed specifically for graduates of Leash Drama and Obedience – Level 2, so all dogs with have a foundation of private obedience.   Reactives Anonymous offers a supportive environment to polish your obedience under the support of two dogs trainers.
Group class meet on the first 
Saturday
 of each month at no cost to graduates of Leash Drama and Obedience Level 2.
 Specs and details are below.
1) WHAT TO BRING.  Please bring all training tools and materials that you used during the course of your program (e-collars, prong collars, slip collars, treats, treat pouches, poop bags, etc.).
2) Do not allow your dogs to greet other dogs or people before, during, or after class. This is essential to the safety and well-being of everyone in the group.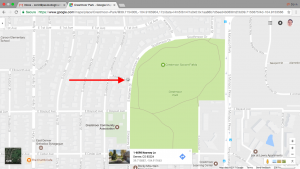 3) WHERE.  Crestmoore Park in North East Denver.  We will meet at the intersection of Kearney and Southmoor Drive.  Please see photo below as a reference.  Corin or Claire will be there to direct you further.
4) WHEN.  First Saturday of each month at 11:30am.  If you do not see our group gathered by noon, please text Corin at (313) 618-3153 and we will guide you to our location.
Team Pavlov